< Back to News
Press Release
ZOME Extends Smart Homes Ability to Save Money, Earn Rewards and Help the Planet
September 5, 2018
TechCrunch Disrupt, San Francisco, CA, September 5, 2018 — ZOME Energy Networks, Inc., a firm creating and selling solutions to electric utilities and apartment building owners since 2012, announced today that it is releasing a new consumer based energy savings program, ZOMEHOME. ZOMEHOME is a mobile app download that will roll-out in a trial program to over 3.5 million available households in the greater Chicago energy market starting in Q4 2018.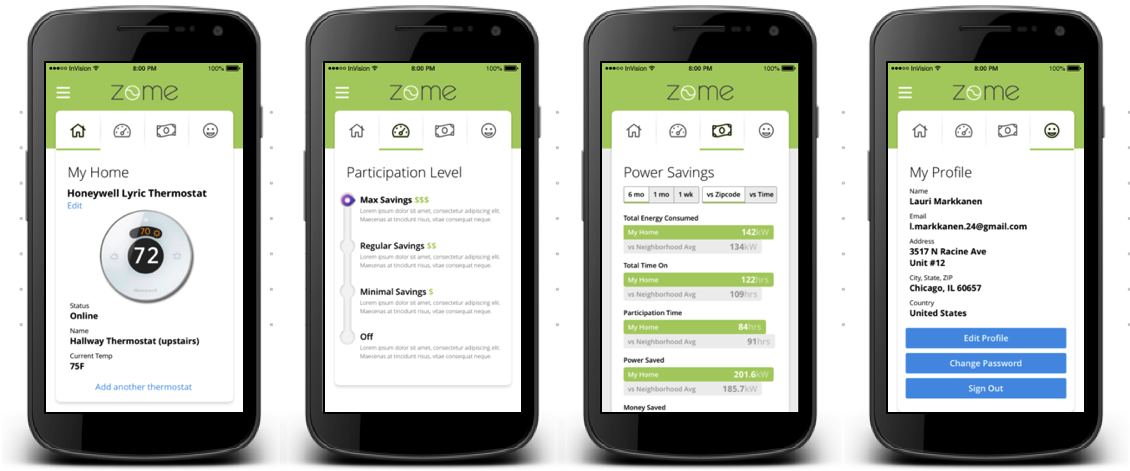 ZOMEHOME intelligently coordinates energy consumption of smart homes based on utility rates, power grid demand, type and age of the building, and weather. Via the ZOMEHOME mobile app, users can adjust comfort settings, participation level, home and away settings and vacation modes. ZOMEHOME works with smart thermostats and in 2019 integration will include support for solar panels and electric batteries, smart appliances and electric vehicle chargers.
Utilizing real-time external data, advanced AI and machine learning, ZOMEHOME makes small adjustments to heating and cooling levels, appliance timing, and solar / EV battery loads to reduce energy consumption. For example, when energy costs spike due to high utility demand, ZOMEHOME reduces cooling to avoid high rates. In turn, the utilities energy grid becomes more balanced minimizing the need for additional energy production.
In addition to lowering utility bills, ZOMEHOME can enroll users in electric Utility rewards programs and related energy programs that pay consumers to voluntarily reduce usage during peak demand. ZOMEHOME households assist in balancing the power grid minimizing blackouts and avoiding the use of dirty energy sources that negatively affect the environment.
The ZOMEHOME trial is free for households with smart thermostats from most popular manufactures. Roll-outs will begin this Fall in the greater Chicago area and northern Illinois. Users can pre-register for the program at www.zomepower.com today.
ZOME Energy Networks was founded originally in 2008 and works with utility companies and building owners to efficiently balance energy grids with its patented Color Power technology and energy forecasting analytics. ZOME has a compelling solution set for Distributed Energy Resource optimization, from delivering an algorithmic approach to wide-scale energy coordination and management, to motivating device manufacturer participation, to a simple integration proposition, to a transformed customer experience. For more information on ZOMEHOME, please visit our website at www.zomepower.com.
---
More News
All News